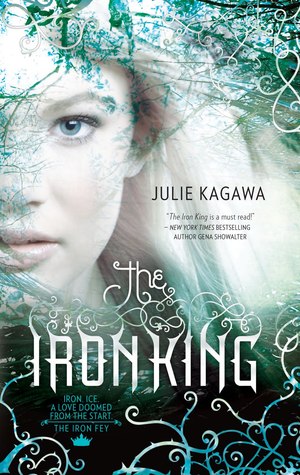 Meghan Chase has a secret destiny; one she could never have imagined.
Something has always felt slightly off in Meghan's life, ever since her father disappeared before her eyes when she was six. She has never quite fit in at school or at home.
When a dark stranger begins watching her from afar, and her prankster best friend becomes strangely protective of her, Meghan senses that everything she's known is about to change.
But she could never have guessed the truth – that she is the daughter of a mythical faery king and is a pawn in a deadly war. Now Meghan will learn just how far she'll go to save someone she cares about, to stop a mysterious evil, no faery creature dare face; and to find love with a young prince who might rather see her dead than let her touch his icy heart.
Buy: Amazon|BookDepository
The Iron King is about a sixteen year-old girl called Meghan Chase who is dragged into the Fairy world when her brother is replaced by a changeling. She soon finds out she has more in common with the Fairy world than she'd thought. Like many modern day fairytales, The Iron King tries to include fairy myths and slightly fails miserably. I personally don't know much about fairy myths but I do know that Robin Puck is the opposite of how is he described in the book. The fact that he has been turned from mischievous and wicked into someone that competes for a girl's attention it was so irritating that I had to push myself so hard to finish this book.
Meghan Chase is not a complete idiot which made the story bearable, she handles everything like a normal sixteen year old. She meets about 200 different creatures which were described like crazy on each page for example: she sees this creatures, this is what the creature is, what the creature does how the creature lives and blah blah blah, next page she sees these two creatures and they do this and that and this is what they're called and it was just so many that by the end of the book I was anticipating all the creatures too start dancing and have a creature party and to be honest with how jumbled up this book was I wouldn't have been surprised if that happened.
There is absolutely nothing happening in the book until she meets Ash which is like half way through the book. All that does happen is that she meets different creatures and she nearly always gets into trouble and finds herself almost getting killed numerous times.
The whole book is this extensive world building and by the 100th creature/place she saw I really couldn't care less about the story. She meets Ash about 60% into the book and he is literally the only thing that is interesting. Even thought sometimes I found him slightly annoying and I wanted to drop the book and stop reading.
The thing that I actually liked what the concept of the Summer Fey, the Winter Fey and the Iron Fey and I feel that there is huge potential for this to actually make the story better. I mostly gave this 3 stars because of Ash and the different territories from the Fey world.
I don't really recommend this if you're over the age of 16 you'll find it extremely cheesy and annoying due to the irritable love triangle and no plot whatsoever. I don't know if I will continue with the series, I've heard that the series gets better as it goes along but I don't know, maybe I'll read it because of Ash.