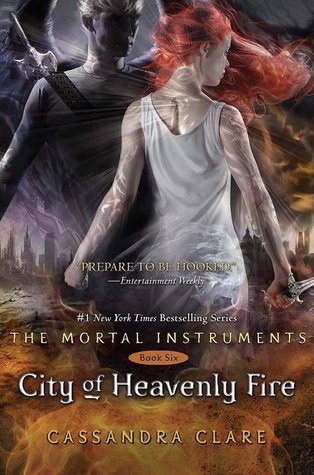 Sebastian Morgenstern is on the move, systematically turning Shadowhunter against Shadowhunter. Bearing the Infernal Cup, he transforms Shadowhunters into creatures out of nightmare, tearing apart families and lovers as the ranks of his Endarkened army swell.
The embattled Shadowhunters withdraw to Idris – but not even the famed demon towers of Alicante can keep Sebastian at bay. And with the Nephilim trapped in Idris, who will guard the world against demons?
When one of the greatest betrayals the Nephilim have ever known is revealed, Clary, Jace, Isabelle, Simon, and Alec must flee – even if their journey takes them deep into the demon realms, where no Shadowhunter has set foot before, and from which no human being has ever returned…
Love will be sacrificed and lives lost in the terrible battle for the fate of the word in the thrilling final installment of the classic urban fantasy series The Mortal Instruments
4.5
Buy: Amazon|BookDepository
I suggest you don't read my review incase you haven't read all of the TMI and TID books since they intertwine in this final instalment.
Let me just tell you how beautiful this book was. It made me laugh like a madwoman, cry hysterically and yell at it for like 50 hours, and I almost went into Cardiac arrest a couple of times. I've never been as emotionally invested in a series as I have been with all of Cassandra Clare's books, including The Infernal Devices. And even though I'm sad its over, the book ended so beautifully and I'm happy with how things fell into place and ended.
As usual, Cassie's writing was perfect and every other word out there that defines flawless. As intimidating as the size of it was, I flew through it. I was really surprised when I finished it as it felt like a normal 300-400 page novel. It was upsetting to see such wonderful characters and world come to an end but I did have some issues with this book.
The first part of the book I didn't really enjoy, probably because I'm so into Clace its unreal and I wanted to see them a little bit more. I also didn't like the multiple point of view scenes, I felt like it didn't focus enough on the main characters and on everybody else's problems. Don't get me wrong, I love Emma and Julian and I've always liked Magnus but the City of Bones movie kind of put me off him a little bit, I don't know thats probably just me.
I also wish I could see more of sassy Jace, like, I really like soft Jace but I wish you could see more of book one Jace. There is like one scene where he is like that and I just wanted more. Clary isn't one of my favourite characters since I find her a little bit annoying from the beginning of the series, but I didn't mind her in this instalment. She was still annoying but I preferred her in this book rather than say for example City of Ashes where she was complaining like on every page.
I also felt like the whole 'heavenly fire' thing carries on too long and then out of the blue Clary figures it out like what? Couldn't you have thought of that quicker if that's what you've been seeing/dreaming about lately? I also felt like Alec, who I adore so much, was wining about Magnus for such a long period of time, like yeah its okay Alec you have a broken heart, I totally understand but come on. I was okay with like 3 scenes of him talking about how much he misses Magnus but when it got to like 50 billion I was starting to get pissed off.
Simon and Izzy were perfect, and so was Sebastian as well, they were the only characters I actually enjoyed reading about in part 1.
Part two was so much better, things were actually starting to happen. Sebastian was may favourite character whilst reading this book and I thought it would have been Jace. Wrong, Sebastian's sass was like book 1 Jace and I loved that! I really liked the scene in the cave where Alec was drunk and he was just talking bullshit, it was hilarious. I also literally bawled and sobbed when Jonathan dies and then when he's trying to help them get out of there but he can't and I was a mess when that chapter was over.
I'm not even gonna go on about the epilogue, it was too painful. Actually the whole book was painful since there were so many TID references and some characters were actually in this book and I literally couldn't hold it together at all. Cassie always manages to write such beautiful endings.
However, with all of the faults I had with the book I enjoyed it nevertheless. It was such a beautiful ending to an amazing series and I'm so excited for The Dark Artifices with Emma and Julian!