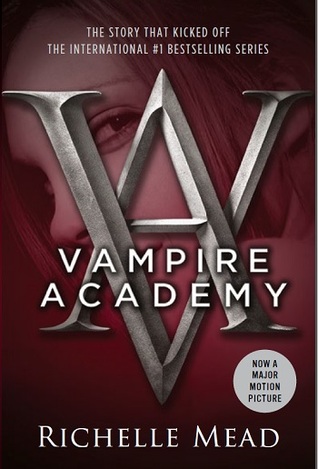 St. Vladimir's Academy isn't just any boarding school—it's a hidden place where vampires are educated in the ways of magic and half-human teens train to protect them. Rose Hathaway is a Dhampir, a bodyguard for her best friend Lissa, a Moroi Vampire Princess. They've been on the run, but now they're being dragged back to St. Vladimir's—the very place where they're most in danger. . . .
Rose and Lissa become enmeshed in forbidden romance, the Academy's ruthless social scene, and unspeakable nighttime rituals. But they must be careful lest the Strigoi—the world's fiercest and most dangerous vampires—make Lissa one of them forever.
Buy: Amazon|BookDepository
I was so surprised with this novel, I thought it will be a really cheesy instalove-twilight-love traingle-annoying characters, and you get the gist. I was so wrong and I'm glad I read this. I was told so many times to start the series and I bought the books nearly a year and a half ago and I just didn't know if I should pick it up.
Vampire Academy tells Rose Hathaway's story of being a Dhampir, which is basically someone who is half vampire and half human. They have super strength and super vison as well as super hearing. Basically everything about them is super. Her job is to protect her best friend, Lissa who is a Moroi. Morois are full on vampires who are hunted by the Strigoi and they are the 'bad' vampires. It feels really complicated but when you're reading, its surprisingly clear who's who.
The girls are tracked back to the Academy after spending two years on the run because Lissa's life was in danger. Back at the Academy they realise its not so easy to settle back down among the other students. In order for Rose to catch up on all the training she has missed, she needs to have extra combat lessons with one of the guardians, Dimitri *insert heart emoji here*
There was actually quite a lot of drama than I anticipated. It also has a very heavy high school element where gossip and being popular is basically the most important thing, ever. The main focus in this book wasn't about vampires and blood sucking, but Rose and Lissa finding out more about their special bond and what it actually means for them.
The novel could have easily been cheesy, but Richelle Mead had such a solid idea that even after a few years, the story hasn't aged. I definitely will continue with the series and I can't wait for my Bloodlines books to arrive!
If you haven't read this book, don't wait any longer like I did! Just pick it up and read it, its a quick read and a fast paced story. Also highly entertaining from beginning to end.